Would you like limitless income potential and work flexibility? How about financial backing and administrative support from a top-notch company? If that sounds like a dream job, perhaps it's time to consider a rewarding career as a freight agent with GlobalTranz. We're an industry-leading third-party logistics (3PL) company that provides a full suite of transportation services and logistics solutions, along with industry-leading technology and back-office support for our agents!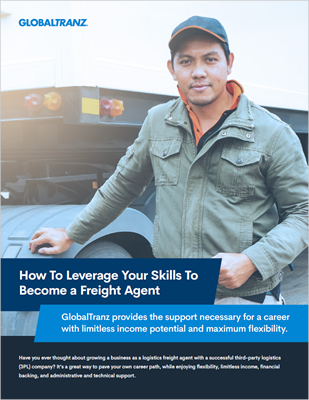 Do you have the skills necessary for freight agent jobs?
Our freight agents have rewarding careers with maximum possibilities. From understanding the intricacies of transportation terms to identifying solutions to meet customer goals, they're experts in all things freight shipping. However, not everyone has the necessary skills. Download our How To Leverage Your Skills To Become a Freight Agent guide to learn if you are a good fit! In this guide, we outline seven tasks that a freight broker often encounters.
Some of the tasks included in the guide are:
Build relationships with clients and carriers.
Determine suitable 3PL solutions for individual businesses.
Manage sales team and work with the back-off support staff.
Freight bookings and sales.
In addition, we provide the list of skills necessary to accomplish those tasks and successfully become a GlobalTranz freight agent.